Most of us probably owned a piggy bank in our childhood.
They are small, typically pig-shaped containers that we use to save coins and cash.
Piggy banks may have traditionally been associated with children. But you can now find stylish and best ones for adults too.
Piggy banks are useful as well as sentimental. Many of us have fond memories of saving our pocket money or birthday money in a piggy bank.
Apart from that, the feeling of watching our savings grow is quite satisfying. Is it not?
But aside from the emotional significance, there are a number of practical benefits of using piggy banks for saving money.
First, piggy banks make saving money easier and more accessible.
We can easily store spare charges and small cash in one place by using any type of piggy bank.
In this blog post, I will be giving you the top 20 best piggy banks for adults.
I will also highlight the factors to choosing the right one for your needs.
So, let's get into it.
Factors to Consider When Choosing Piggy Banks for Adults
Here are some of the most important ones:
Capacity and Size: 
You should first decide how much you are planning to save money. 
Then choose a piggy bank that has a capacity that suits your needs. 
Some piggy banks are small in size so they can hold a few coins. 
While the larger size can store more cash and coins.
Material and Durability
The material used to make the piggy bank is also important. 
A sturdy piggy bank will last for a long time if it is made of durable materials. 
Materials used for piggy banks are plastic, metal, and ceramic for their durability.
Design and Aesthetics
There are many styles and aesthetics of piggy banks.
It ranges from classic pig-shaped ones to more modern and trendy ones. 
So, pick a design that suits your preferences and complements your home's decor.
Security Features and Locking system 
Depending on what you plan to use your piggy bank for, you can purchase one with a locking system to keep your savings secure. 
Some piggy banks come with combination locks or key locks to prevent unauthorized access.
Top 20 Best Piggy Banks for Adults
Royal Brands Money Savvy Pig Piggy Bank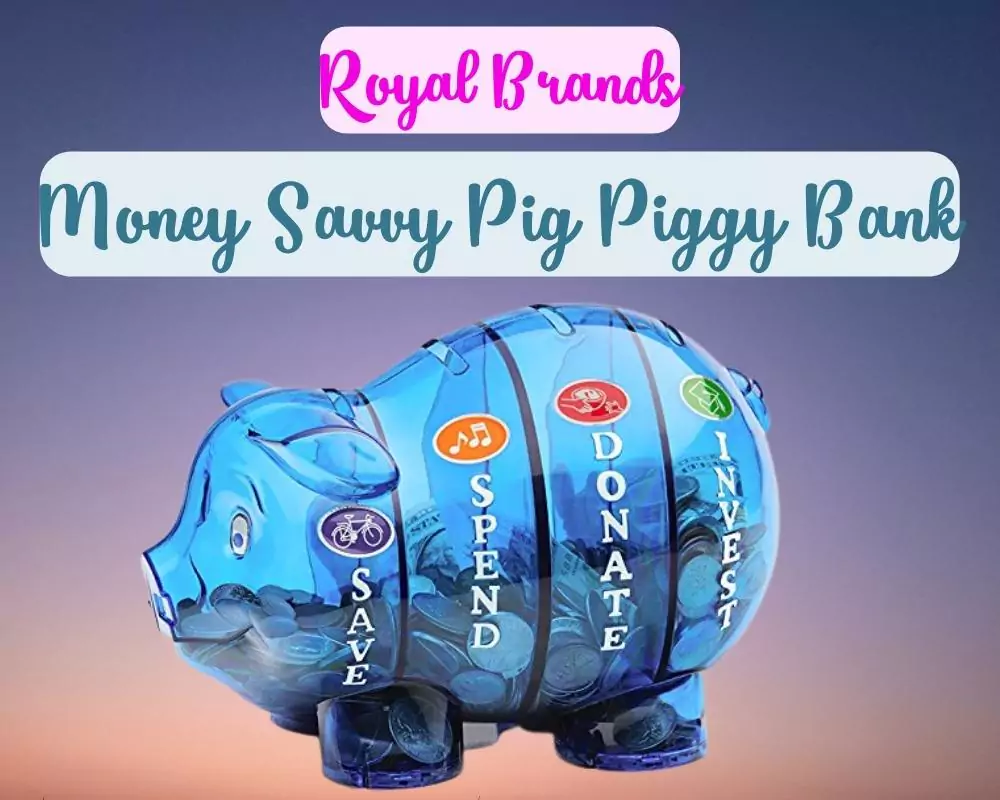 This piggy bank has been made of high-quality, durable plastic material for a long time lasting.
It is different because it has four different sections: "Save," "Spend," "Donate," and "Invest."
This feature helps you to put the money into different categories and makes sense to manage money wisely. 
Moreover, it comes with a sleek and modern design that will surely look impressive on any table or cabinet.
So, yeah I prefer it to one of the best and cool piggy banks for adults.
Cartoon Panda Piggy Bank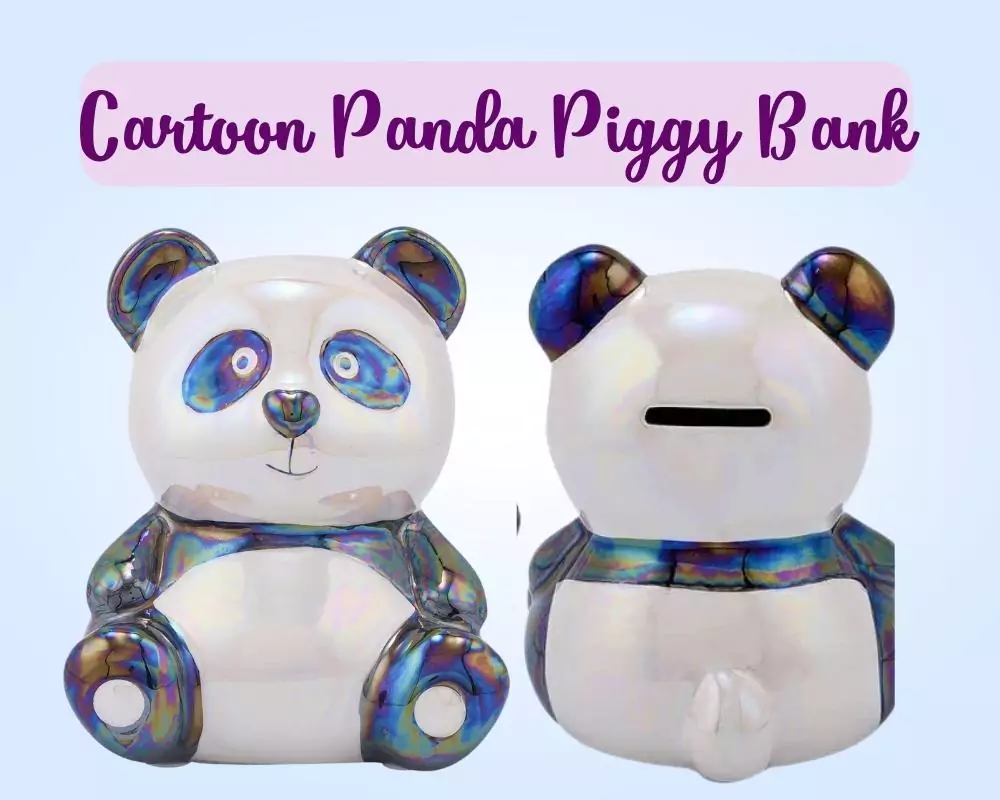 The Cartoon Panda Piggy Bank makes saving money fun and exciting. 
This bank is made of high-quality resin material of both durable and long-lasting.
One of the unique features of this piggy bank is its adorable look and unique design panda.
It has a big belly and a cute face that make it, even more, look very cute piggy bank.
The back of the bank has a wide coin slot to put your coins or currencies.
Kitten Cute Money Bank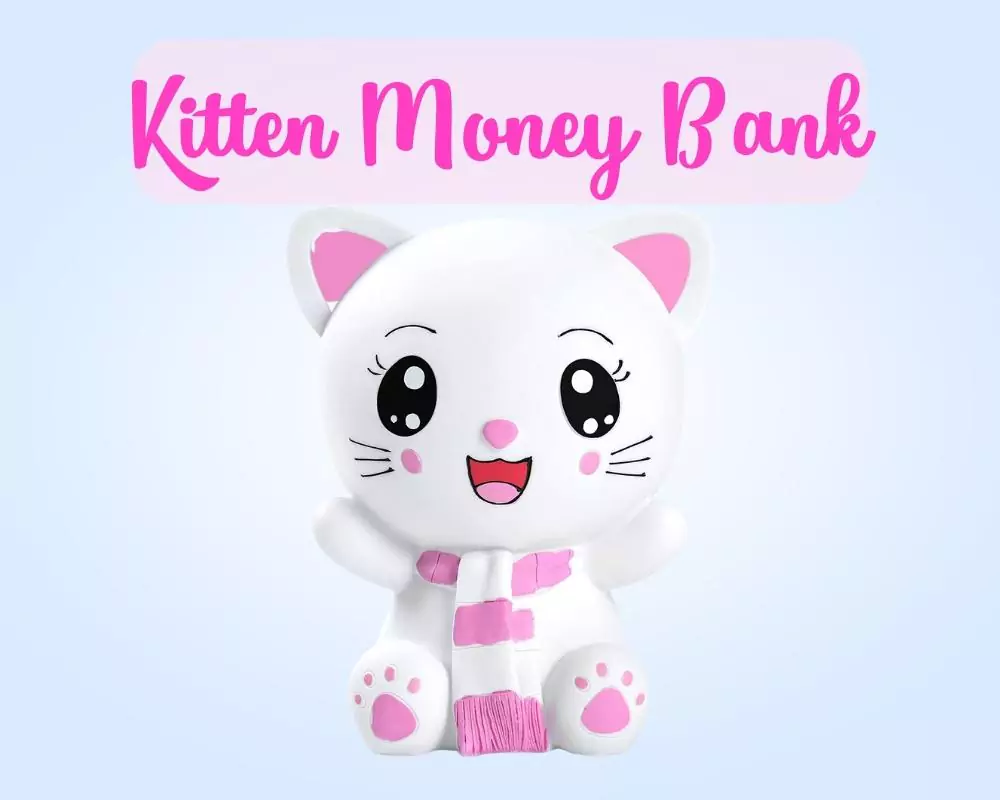 This piggy bank is made of high-quality, break-proof materials to keep your savings safe.
Its cute kitten design is just perfect for any room decor. It will add some cuteness and fun to your home.
The Kitten Shatterproof Creative Piggy Bank is great for both kids and adults who love cats.
You can also use it as a gift for birthdays, holidays, or any other gift.
Any cat lover you know is sure to smile when they see it.
HUSAN Electronic Money Bank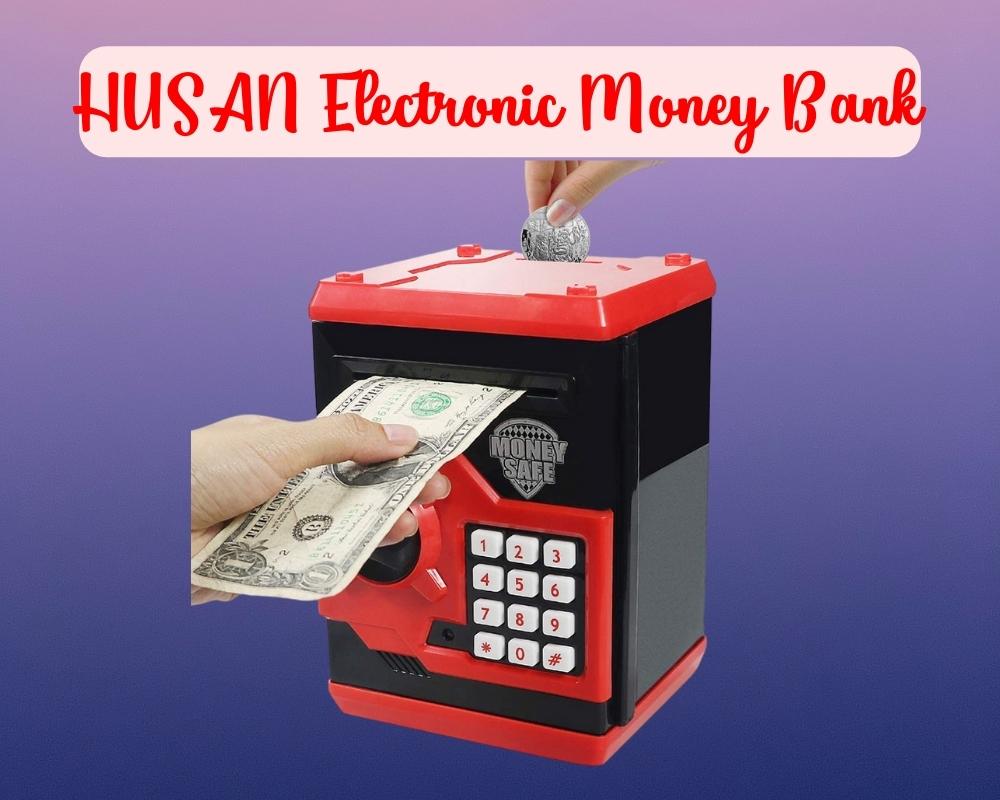 This is a digital piggy bank for adults for saving money as easily as enjoyable.
This bank is made of durable ABS plastic with a sleek and modern design. Using it will complement any home decor.
One of the key features of the HUSAN Electronic Money Bank is its electronic counting function.
This function accurately counts each coin or bill you deposit with an up-to-date total of your savings.
It also automatically shuts off when not in use.
The built-in password function allows you to set a four-digit password.
This provides an added layer of security and ensures that only you can access your money.
Hizgo Money Saving Box
The HIZGO Stainless Steel Money Saving Box is of the best piggy banks for adults with a sleek and stylish modern design.
The box is made up of high-quality stainless steel for its durability. It is also resistant to corrosion.
This bank has a unique design that will enhance the ambiance of the room.
Because of its compact size, it becomes easy to keep on a shelf or desk.
The money-saving box is designed in such a way that without solving a puzzle you will not open it.
Vcertcp Money Jar Piggy Bank
It is a type of Money Jar that is very easy to use and made of durable ABS plastic material.
This building material makes it resistant to scratches and wear.
Most interesting thing is that when you drop your coins and bills into the slot at the top of the jar.
The built-in sensor will automatically count and it will display the total amount on the digital display.
This money jar holds 2.5L of coins and bills, perfect for storing spare change and small bills.
It can also be customized if you want for your personal style and lifestyle.
You will be able to decorate the jar by using acrylic paints, paint brushes, stickers, etc.
Tooarts Metal Piggy Bank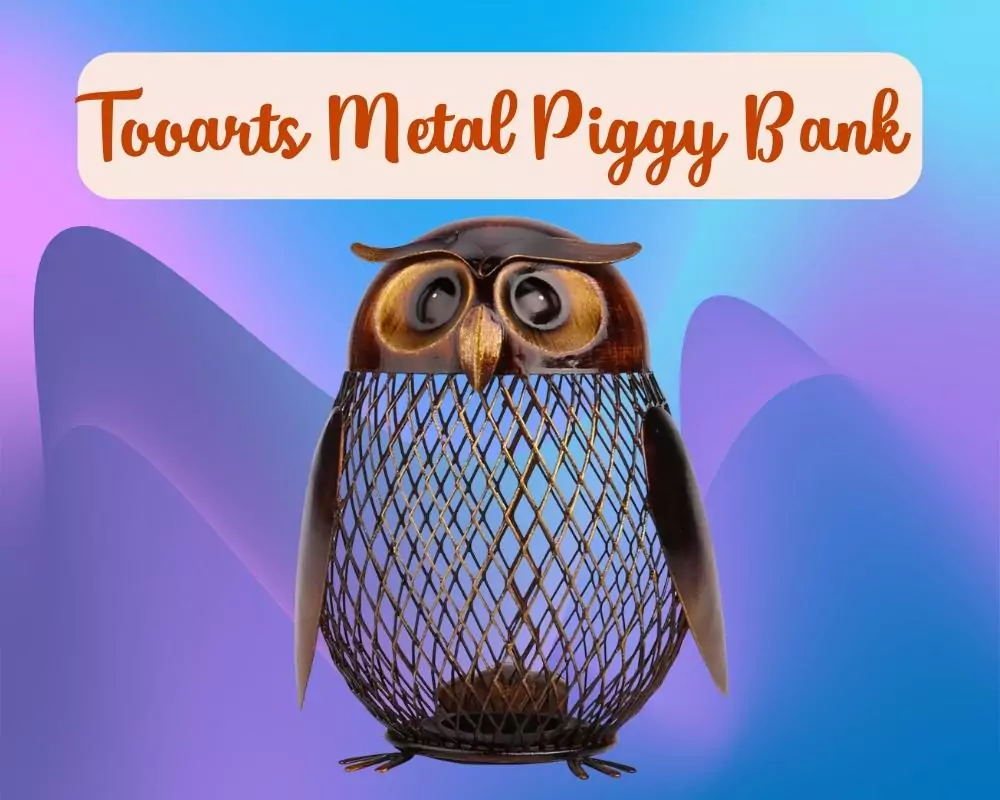 This is a cute owl look beautifully designed for home decor.
It is built up of high-quality metal with smooth edges that will last longer.
Mesh's belly allows you to see your saving and the coin slot is big enough to fit coins and notes.
The bottom has a plastic cap that is easy to take off to get the money out.
It could be a gift for Christmas, a birthday, or Mother's Day.
PIG WORLD Piggy Bank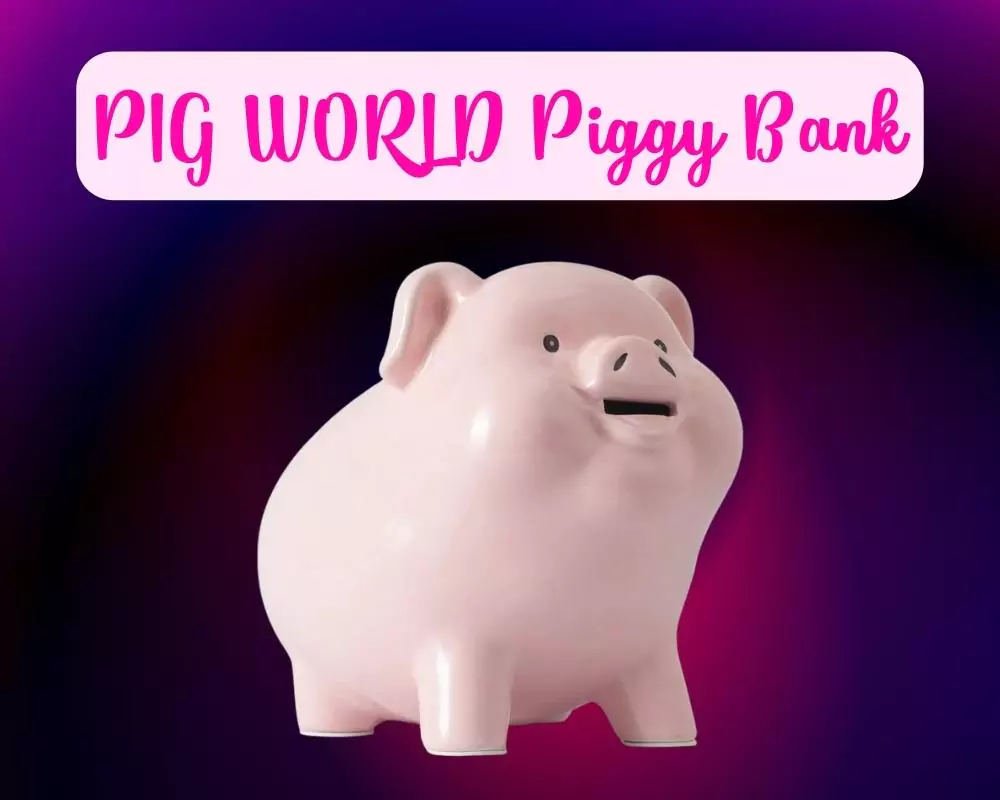 This is a unique and cute piggy bank with pink color.
When you don't know what to gift your friends or children for birthdays then you can choose it.
You can use it as an ornament in the study, living room, and other corners of your home.
Wooden Adult Piggy Bank
This is one of the best wooden piggy banks made of high-quality wood with a strict design and a natural look.
The strict design guarantees not to remove your saving until the goal is reached.
You can deposit up to 1000 coins and around 1500 banknotes.
It has a 365 days-saving plan calendar. So, this is what makes it unique among others.
It is lightweight and easier to remove currency than stainless steel.
Ceramic

Money Saver Box
This is a ceramic piggy bank for adults though it doesn't look like a pig.
The bank has a white base color and the best thing is you can decorate it with colorful designs.
It is made up of high-quality ceramic material and it will last longer. It is even safer than a glass piggy bank.
This money-saver box has a small opening as you can see in the above image. This ensures that the money inside is secure.
The piggy bank is approximately 7 inches in length, 5 inches in width, and 6 inches in height.
And you must break the box if you want to get your money.
You can easily keep it on a dresser or desk as a decorative item in the bedroom.
ATM Piggy Bank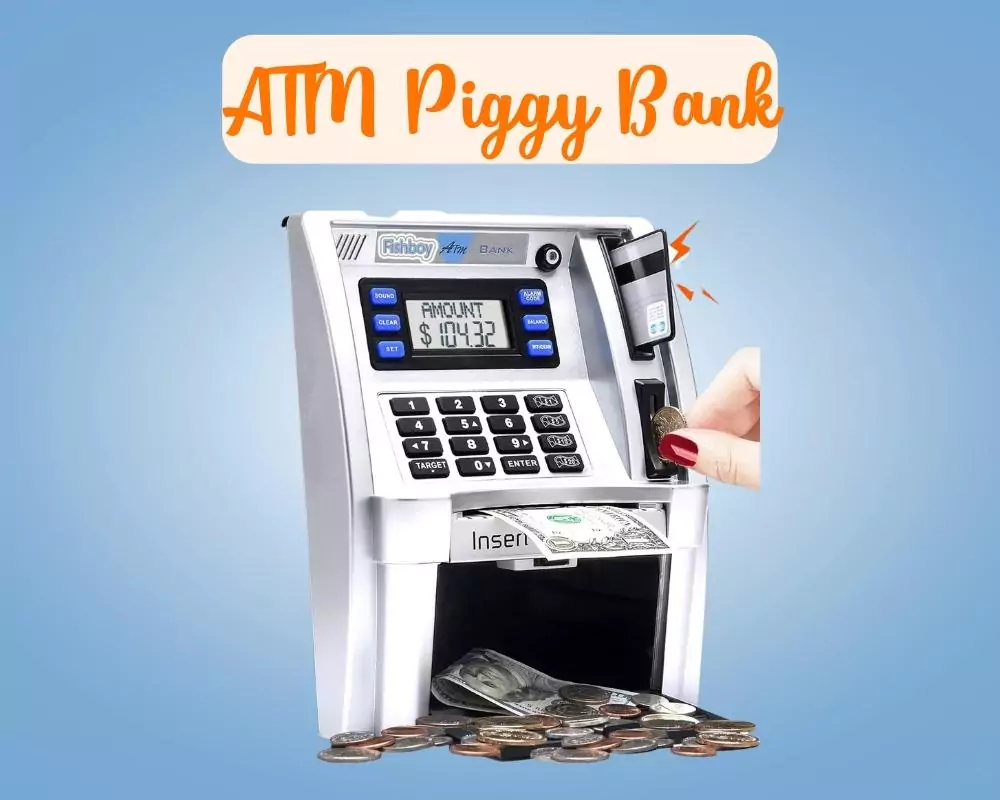 The bank is an ATM-style interface with a keypad and a display screen.
It also comes with a debit card and bill feeder and it really feels like a real ATM machine.
The piggy bank is made of high-quality plastic.
It also sounds just like an ATM when you insert cash or coins.
The coin recognition feature accurately counts the change that is deposited.
The balance calculator of it keeps tracking your savings.
Schylling Rubber Piggy Bank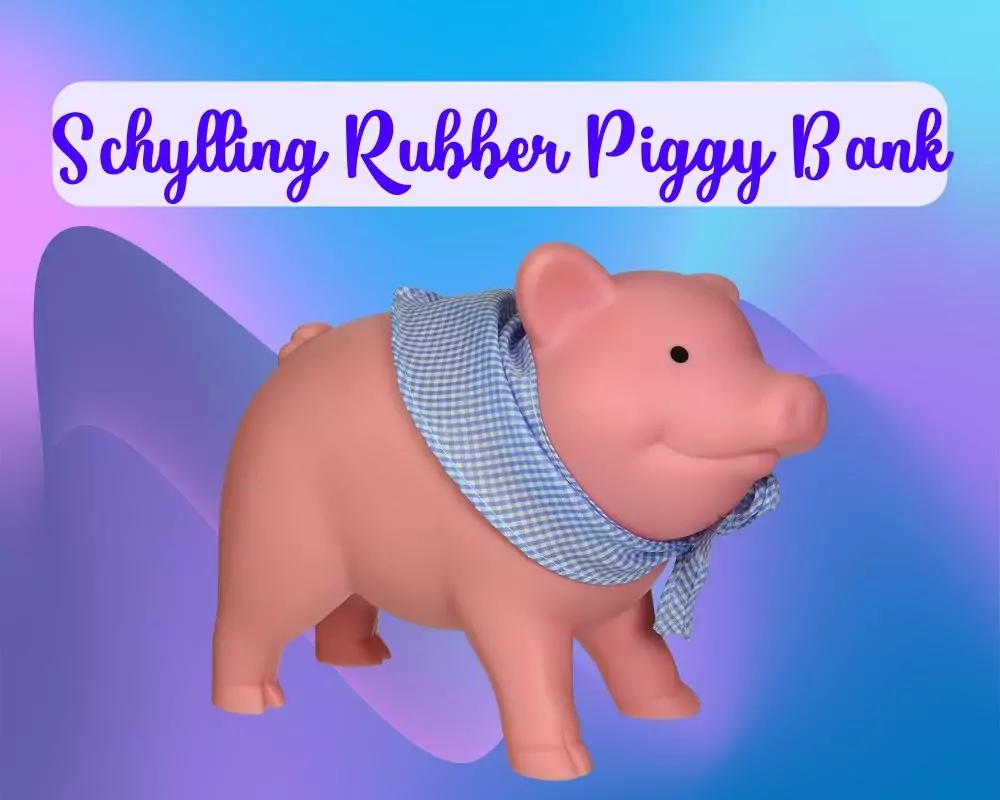 This is a classic piggy bank that has been around for decades.
The durable and flexible rubber material of this piggy protects it from drops and bumps.
Moreover, it is a lightweight design at an affordable price. 
This makes a great starter piggy bank for adults who just start saving money.
It has a twist-off nose which is easy to get savings quickly at any time without a lock.
However, its small size may not be enough for those who are looking to save more coins or cash.
Despite its limited capacity, its iconic design and durability are viable options for a classic piggy bank that will last for years.
Stainless Steel Money Box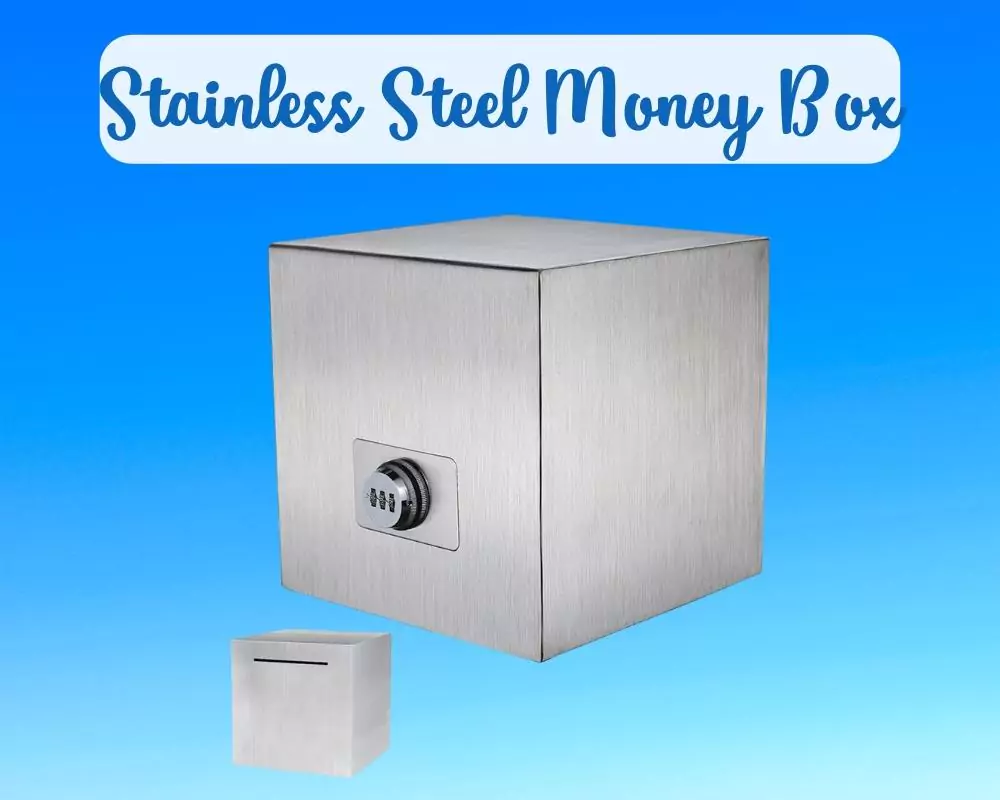 This is a high-quality piggy bank designed for adults who want to keep their savings secure.
The piggy bank is made of durable stainless steel. It has the capability to keep up to 10,000 coins or 1,500 bills.
Unlike other piggy banks, this one has a password-protected system that ensures savings are safe.
You or anyone can set their own four-digit password.
Apart from that, any modern decor will look great with its sleek and minimalist design.
X-Large Piggy Bank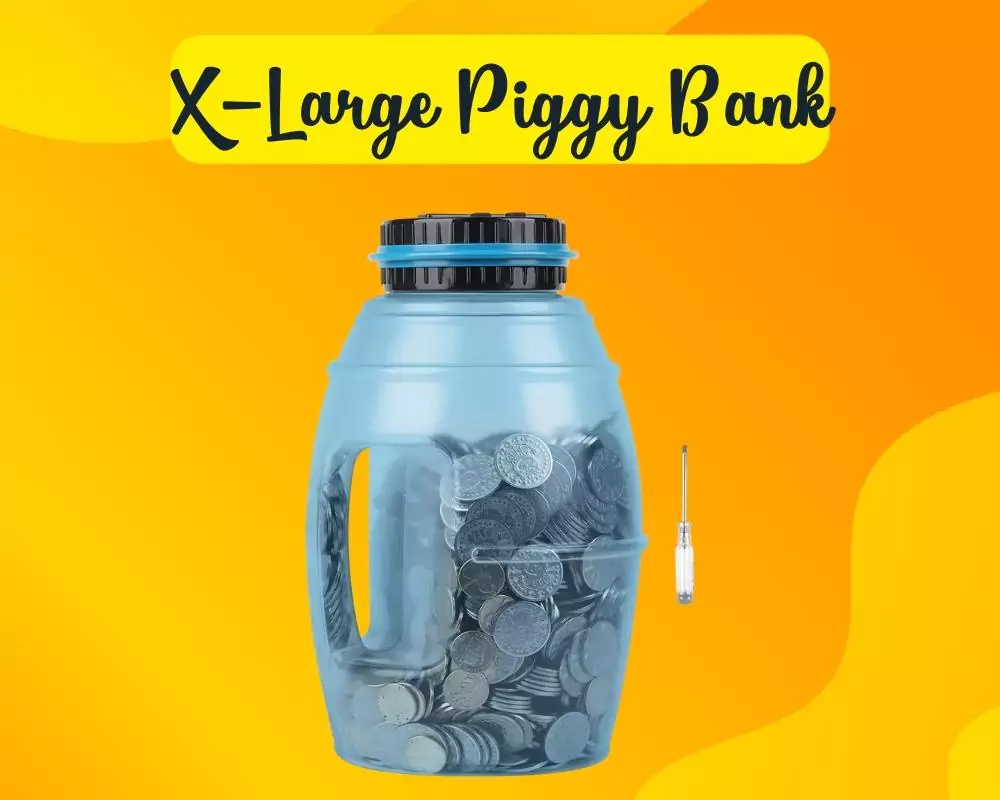 This is a money jar piggy bank for adults that counts bills and coins built up of durable ABS plastic.
It has a clear plastic body so that you can see the savings.
You can save up to up to 4,000 coins or $1,000 in bills with its large size measuring 11.02 x 8.66 x 7.87 inches.
The best part of it is the digital counting display which shows how much money you have saved.
The display is easy to read and will keep you track of both your coins and bills.
You can also reset the count at any time by pressing a button on the bottom of the piggy bank.
Alvantor Electronic Piggy Bank
This is a modern piggy bank for adults, made of high-quality ABS material and secure bank piggy.
It contains a password-protected locking system that prevents unauthorized access to your savings.
The unique design of the coin slot makes it easy to deposit coins.
As you insert coins into this bank, a digital LCD screen will display the deposited money.
As well as a cute cartoon image appears with a sound effect.
Conclusion.
So, piggy banks are not just for kids. They are a great tool for adults too.
I have mentioned the 15 best piggy banks for adults. You can choose anyone that suits your financial goal.
I hope that these lists would help you to get your best and cool piggy bank.
Remember that saving money is an important part of financial planning for adults as well as for students.
A piggy bank can be a great tool to help you save that with so many options available.
There is no reason not to start your savings journey today!
My name is Andrei, and I'm passionate about writing informative content, particularly focused on money-saving guides and related topics. Let's achieve our money-saving goals together!